Historically, fungus recording in Northern Ireland has occurred in fits and starts. The very first records of fungi were made by Dr Sherard in 1748. Four species of fungi were described in Walter Harris' publication (1748): The Antient and Present State of the County of Down". It is difficult to work out just what those species were. A description is given in Latin and Rev. Lett (1888) decided that one of the species was Peziza coccinea, although quite what this species is now known as is uncertain! One was a chestnut coloured mushroom with white gills and a spotted stalk and the other two were puffballs.
The first major person to study fungi in Northern Ireland was John Templeton at the turn of the 18th century. He never actually published himself, but a Mr. Thomas Taylor compiled his records (266 species) in 1840 from drawings and specimens given to him after Templeton's death. Mrs Templeton had asked him to carefully ascertain the species and their modern names with a view to publication. Taylor could not identify all the drawings or specimens. The location and date of all these records are unknown, but Taylor states that most of the collection was made in the latter part of the 18th century. It sounds as if he was one of the great amateur naturalists, a specialist in many departments of zoology and botany (Taylor, 1840). Templeton's drawings are now in the Ulster Museum.
The next person to come on the scene was the Reverend Henry Lett in the mid 1880s. Another great all round naturalist, he recorded 582 species, largely from Ardmore Glebe (Co.Armagh), Killymoon (Co.Tyrone), Shane's Castle (Co.Antrim) and Rademon, Donard and Tollymore demesnes (Co.Down) (Lett, 1884). He made most of the collections himself and was helped in the identifications by W.B.Grove of Manchester and Greenwood Pim from Dublin who had worked on the Fungi of Leinster and Munster. Specimens listed but that were not collected by him had all been checked by him with the exception of Templeton's records and records made W. Thompson in 1840. Lett wrote that he also had many specimens and drawings of undecided forms which he had not been able to clear in time for his 1888 paper. It is unknown what happened to these as he made no further publications on fungi.
There was a burst of interest in Myxomycetes at the beginning of the 20th century. Important collections were made by Stelfox and most of his collection now resides in the Ulster Museum. Lister (1929) documented most of these records.
Professor Muskett, Norman Carrothers and Hugh Cairns started, as they described, a systematic survey of the fungus flora of Ulster in 1923 shortly after the establishment of the Ministry of Agriculture for Northern Ireland. They published two papers in 1931 and 1934 documenting progress, but strangely nothing after this. Professor Muskett then produced a series of catalogues of Irish fungi summarising the species in the published literature between 1976 and 1984. No further records were attributed to himself post 1934 even though it is known that a large herbarium was created at the Department of Agriculture (NI). Tragically, when Professor Muskett died, this herbarium was destroyed. There are thus no herbarium specimens of any of the species listed in these papers. They acknowledged the help they received from Miss E.M. Wakefield of the Herbarium, Kew, Mr Carleton Rea and Mr Ramsbottom of the British Museum in helping with the determination of doubtful species.
The British Mycological Society visited Northern Ireland in 1931, 1948 and 1964, largely visiting the estates of Down and Antrim. These three visits produced large amounts of records and testify to what beautiful woodlands some of these estates must have been in those times before laurel, rhododendron and conifers took over to a certain extent.
The Founding of the NIFG
Since then there were only scattered records, e.g. Freida Adair in the mid-1970s until the early 1990s and the subsequent formation of the Northern Ireland Fungus Group in 1996. We must remember the efforts of  Gerry Shannon of the University of Ulster and Rachel Siggins from Cookstown, both founder members of the group who are sadly no longer with us but without whom the group would not be as it is today.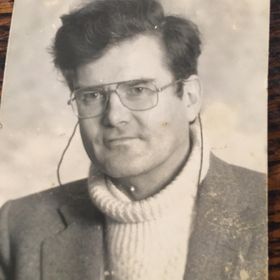 Gerry Shannon
Since the NIFG formed, recording in Northern Ireland has attracted more interest and records are now spread right round the province.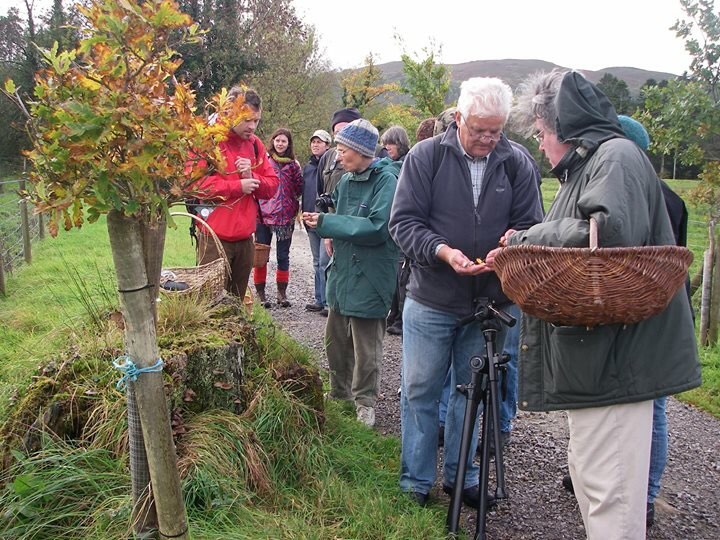 At Dromantine Estate in County Down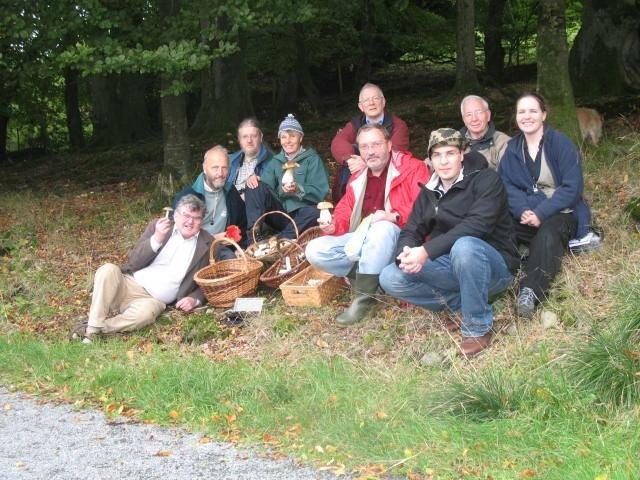 The group in action
Two British Mycological Society Forays – in 2000 and 2010, visited County Fermanagh and were rewarded with spectacular numbers of new records for Ireland.
In 2000, there were 325 species recorded new to Northern Ireland and 167 new to Ireland!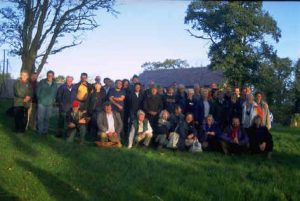 The Group at Lusty Beg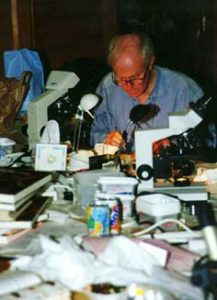 John Weir hard at work
References
Adair, F. (1976) Fungi collected in Ireland 1972-74 Bulletin of the British Mycological Society Vol 10, part1.
Ainsworth, G.C. (1950) Belfast Foray. Trans. British Mycol.Soc 33, p182-188
Belfast Naturalist's Field Club (1896) Excursion to Slieve Gallion Irish Naturalist Vol 5, p264
Holden, M. & Montgomery, N. (1965) Autumn Foray, Belfast 3-10 Sept 1964 News Bulletin of BMS No 24, 4-10
Lett, H.W. (1885) Fungi of Northern Ireland Proceedings of BNFC Appendix 1884-85 pp 265-316
Muskett, A.E. & Malone J.P. (1980) Catalogue of Irish Fungi – II. Hymenomycetes. Proc.R.Ir.Acad. Vol 80B 197-276
Muskett, A.E. (1976) Mycology and plant pathology in Ireland Proc.R.Ir.Acad. Vol 76B 393-472
Muskett, A.E., Carrothers, E.N. & Cairns,H. (1931) Contributions to the Fungus Flora of Ulster Proc. Royal Irish Acad. 40 (B), 37-55
Muskett, A.E., Cairns,H. & Carrothers, E.N.  (1934) Further Contributions to the Fungus Flora of Ulster Proc. Royal Irish Acad. 42 (B), 41-52
Lister, G. (1929): Report on Recent Additions to the Irish Fauna and Flora: Mycetozoa. Proc. Royal Irish Acad. 34 (B), 55-57
Reid, D.A. (1965) New or interesting records of British. Hymenomycetes Trans. British Mycol.Soc 48, p513-537
Taylor T. (1840) Catalogue of the species of Fungi obtained in the North of Ireland by John Templeton Annals of Natural History Vol.5, 3-6.
Wakefield, E.M. (1932) Belfast Foray Trans. British Mycol.Soc 17, p5-13